Cat Food : Top 5 Cat Food Brands In India for Adult Cats & Kittens
Cats are fascinating creatures with unique dietary requirements. As they embark on different life stages, their appetites change, and they crave different nutrients. For new cat parents, it's crucial to understand that not all foods are created equal for our feline friends. Young kittens, for example, require a diet rich in protein to support their growing muscles and spur their development. Their delicate digestive systems are not quite ready for the heavy meals of an adult cat, so it's essential to provide them with a diet tailored to their needs. With the right food and care, you can ensure that your kitten grows up to be a healthy, happy and playful cat.
Finding the right cat food can be a challenging task, especially with the vast variety of options available in the market. But don't worry, in this blog, we'll go through some essential factors you need to consider while selecting the perfect cat food.
How To Find The Right Cat Food?
Finding the perfect cat food takes some research, but it's worth it, to ensure your cat is getting the nutrients they need to live a happy and healthy life. Consider the factors mentioned below to find the best food for your feline friend. Happy feeding!
Nutritional Requirements

: The first and foremost thing to consider while choosing cat food is the nutritional requirements of your cat. Cats are obligate carnivores, meaning they need a diet high in protein and fat and low in carbohydrates. Make sure the food you choose has high-quality animal protein as the first ingredient.

Age and Health Status

: The dietary needs of cats change as they age. Kittens require more calories and protein for growth, while senior cats need food that is easier to digest and has lower calorie content. Also, if your cat has any health conditions, such as diabetes or kidney disease, it's essential to choose a food that caters to its specific needs.

Ingredient Quality

: Always read the ingredients list on the cat food packaging. Look for real meat, fish or poultry as the first ingredient rather than by-products or fillers such as corn or wheat. Avoid food with artificial preservatives, colours and flavours.

Life Stage: Different cat food formulas are designed for specific life stages, such as kitten, adult and senior. Ensure that you choose a food that is appropriate for your cat's age.
Wet or Dry

: Cats need moisture in their diet to maintain good hydration levels and urinary health. Wet food has a higher moisture content than dry food, but it also has a shorter shelf life. Dry food, on the other hand, has a longer shelf life and is more convenient for cat owners, but it may not provide enough moisture for cats. Consider feeding a combination of wet and dry food to provide the best of both worlds.

Budget

: The price of cat food can vary greatly, and it's important to find food that fits your budget while still providing the necessary nutrition for your cat. 
Different Types Of Cat Food
Before we dive into the best cat food brands in India, let's take a closer look at the different types of cat food available. Your cat's health is a top priority and having a good understanding of these options can go a long way in ensuring their well-being.
Dry cat food, also known as kibble, is low in moisture, making it a great option for supporting excellent dental health. The crunchy kibble promotes chewing, helping to keep your cat's teeth and gums in top shape. And, with a more affordable price tag compared to other forms of food, it's easy on your wallet too!
2) Semi-Moist Cat Food
The convenient and delicious semi-moist food, also known as jelly food! With a water content of 60-65%, this type of food is the perfect balance of moisture to keep your cat hydrated and healthy. No cans to open, no mess to clean up - just open a pouch and pour the scrumptious flavour into your cat's bowl. With a variety of flavours to choose from, even the pickiest of cats will be tempted by the irresistible taste of semi-moist food.
3) Wet Cat Food
Wet cat food, also known as gravy food is a fantastic choice for providing your cat with high-quality protein, vegetables and moisture all in one. It's especially great for cats recovering from illness or those who need a little extra hydration. So, if you want to give your furry friend the best, consider including wet cat food in their diet.
There are many different types of cat food available, each with its own set of benefits and drawbacks. Consider your cat's individual needs, including their age, health status and dietary preferences, to determine the best type of food for them. 
5 Best Cat Food Brands In India 
Hunting for the purr-fect feast for your furry feline friend can be a perplexing adventure with a plethora of options available. Don't let the challenge of understanding your kitty's dietary needs and decoding pet food labels bring you down. Allow us to be your trusty guide and present to you a curated collection of top-notch cat food brands in India. Now, you can effortlessly pick and choose the ideal option to satisfy your kitty's cravings and nourish them to their whisker-wagging contentment.
Introducing the purr-fect dining experience for your feline companion - Royal Canin. This brand reigns supreme as one of the most prestigious cat food brands in India, renowned for its premium ingredients and nutritionally balanced recipes. They cater to every stage of a cat's life, from playful kittens to golden-aged seniors, with a diverse range of products. Their formula is a symphony of protein, fat, and carbohydrates, ensuring that every bite provides your furry friend with the perfect balance of nutrients. And for those kitties with special needs, Royal Canin has got you covered with specialised options, including delectable dishes for overweight cats and those with sensitive tummies. Treat your feline royalty to the taste they deserve with Royal Canin.
Step into the world of feline culinary delight with Whiskas - the brand that has captured the hearts (and taste buds!) of pet owners in India. This brand is a purr-fect blend of mouth-watering options, both in the form of delectable dry food and tantalising wet food, made with only the finest ingredients. Whiskas is dedicated to providing your feline companion with a nutritious feast that meets all their dietary needs, with a menu that includes real chicken, fish, or beef as the main course, accompanied by a medley of essential nutrients. Whether you have a mature cat or a mischievous kitten, Whiskas has got you covered with a range of options that will keep them purring with satisfaction.
3) Sheba Cat Food 
Indulge your feline connoisseur with the elegance of Sheba - a brand that knows no bounds when it comes to quality. From their succulent wet food offerings to specialised options for those with specific needs, Sheba serves up a feast fit for royalty. For those with specific dietary requirements, they've got specialised options for overweight cats and those with sensitive stomachs. Elevate your cat's dining experience with the sophistication of Sheba.
4) Acana Cat Food
Ready for a paw-some surprise for your feline friend? Introducing Acana Cat Food - the purr-fect way to spice up mealtime! This top-notch pet food company, a proud member of the Champion Petfoods family (along with their famous sibling, Orijen), knows that cats crave something wild and exciting. And what's wilder and more exciting than a plate full of meat? With formulas that cater to cats of all ages, Acana is all about putting meat front and centre. But they don't skimp on the veggies and supplements, either. Each bite of Acana Cat Food is bursting with nutrition, made with responsibly sourced, high-quality regional ingredients, and free from any artificial chemicals or preservatives. So go ahead, and give your cat the gift of a meat-packed, veggie-filled, and totally wild dining experience with Acana Cat Food.
Farmina's mission is simple - to create a world where your furry friend can thrive and live their best life. With a commitment to developing natural, scientifically-formulated food, Farmina is the perfect blend of nature and science. And it all starts with the finest ingredients, sourced with care and mixed to perfection. Every bag of Farmina is packed with protective packaging that locks in the freshness and is made with 100% GMO-free certified ingredients. With its all-natural choices, palatable options and commitment to protecting your pet, Farmina is the epitome of an ethical and reliable brand.
Finding the right cat food brand can feel like navigating a maze, but don't worry, you've got this! With a focus on your cat's unique nutritional needs and a brand that uses top-notch ingredients, you can give your furry friend the gift of good health and happiness.
Common Skin Problems In Dogs
Our animal buddies have skin below all that fur, just like humans. One of the most prevalent illnesses that dogs...
on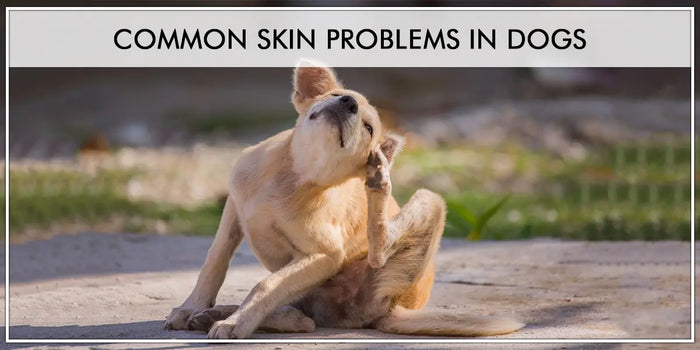 11 Reasons You Must Insure Your Pet Dog Right Away!
As dog parents, we love our furry friends and consider them to be an integral part of our families. They...
on