Easing your Pet Parenting Journey with These Helpful Tips
Pet parenting is an incredibly rewarding experience, but it can also be a lot of work, time, and money. As pet parents, we want to give our furry friends the best life possible, but the costs can add up quickly. However, with a little bit of planning and some helpful tips, you can ease the financial burden of pet parenting and focus on enjoying the love and companionship that comes with being a pet parent.
In this blog, we'll explore some in-depth tips to help you ease the financial burden of pet parenting, while still providing your furry friend with the best care possible. And don't worry about unexpected vet bills, because we'll also introduce you to Pawsindia Dog Health Insurance, which will cover your Pet's health and Vet bills.

Adopt Don't Shop
One of the best ways to reduce the financial burden of pet parenting is to adopt a pet instead of buying one. There are thousands of animals in shelters waiting for a forever home and adopting one not only saves a life but can also be more cost-effective. Adoption fees are often much lower than the cost of purchasing a pet from a breeder or pet store. Additionally, many animal shelters and rescue organizations offer spay/neuter services and vaccinations as part of the adoption fee. By adopting a pet, you'll not only save money, but you'll also give a loving home to an animal in need.

Prioritize Preventative Care
Preventative care is essential to keep your pet healthy and avoid costly vet bills down the line. Make sure to schedule regular check-ups with your veterinarian to catch any potential health issues early on. Keeping up with preventative care like vaccinations, flea, and tick prevention, and heartworm medication can also prevent costly treatments for preventable illnesses. It's also important to maintain your pet's dental health by brushing their teeth regularly and providing them with dental chews and toys. Good oral health can prevent painful and expensive dental problems in the future.

Home Care
Providing your pet with a healthy and comfortable home doesn't have to break the bank. Instead of splurging on expensive pet beds and accessories, you can make your own DIY pet bed or toy using household items. Regular cleaning of your pet's bedding, toys, and litter box can also help prevent the spread of illness and infections. Additionally, you can save money by grooming your pet at home instead of paying for professional grooming services. With a little bit of practice and combos like lick mats and peanut butter, you can learn to trim your pet's nails, brush their coat, and give them a bath at home.

Shop Smart
Pet supplies can be expensive, but there are ways to save money while still providing your pet with quality food and products. Look for deals and discounts when shopping for pet food, treats and supplies. You can also buy in bulk to save money in the long run. Be sure to read the labels and ingredients of pet food to ensure that you're providing your pet with a healthy and balanced diet.

Pawsindia Dog Health Insurance Program
Even with all the cost-saving tips, unexpected vet bills can still arise. To help alleviate the financial burden, consider investing in a dog health insurance program like that of Pawsindia.
Pawsindia offers comprehensive health insurance plans that cover everything from routine check-ups to major surgeries. With Pawsindia, pet parents can have peace of mind knowing that they won't have to choose between their pet's health and financial stability.
Pawsindia offers several different plans, each tailored to meet the specific needs of different breeds and ages of dogs. The plans offer coverage for everything from basic check-ups and vaccinations to specialized surgeries and hospitalization. With Pawsindia, pet parents can customize their coverage to fit their budget and their pet's unique needs.
In addition to financial coverage, Pawsindia also offers a range of benefits to its policyholders. With Pawsindia, pet parents can be confident that they're providing the best possible care for their furry friends, without having to worry about unexpected vet bills.
Being a pet parent can be a wonderful and fulfilling experience, but it can also be expensive. By following the tips outlined in this article, pet parents can minimize the financial burden of pet parenting and enjoy all the benefits that come with having a furry friend. From choosing affordable pet food options to investing in a dog health insurance program like Pawsindia, there are many ways to provide the best possible care for pets without breaking the bank. So, pet parents, don't let financial worries hold you back from the joys of pet parenting. With a little bit of planning and some smart financial decisions, you can be a happy and responsible pet parent, while also keeping your budget intact.
How To Keep Your Pet Entertained
Just like we keep ourselves entertained through various mediums, our pet also needs entertainment. Being a pawrent, you might have...
on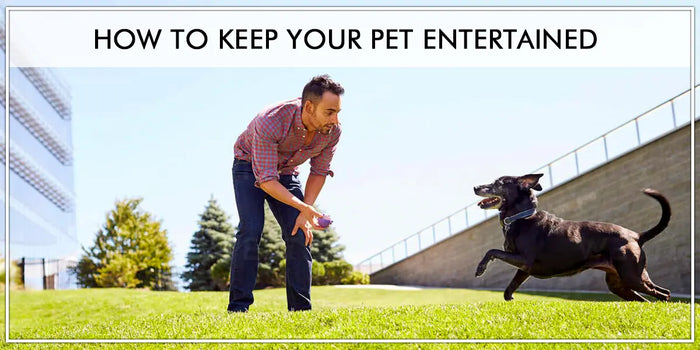 PawsIndia's Guide to Minimizing the Expense of Dog Parenthood in India
There's no denying it - Dog parenthood can be rewarding in so many ways, but taking care of a dog...
on